Owl you need is love - Disney edition
Thank you for the birthday wishes! The party was SUPER awesome, I'll post some pictures soon! Now on to something else. You can never get enough of owls, especially not when talking about Disney movies.
// Danke schön voor de verjaardagswensen! Het feestje was meer dan geweldig, ik heb me uitstekend vermaakt! Foto's volgen snel. Nu over naar ander zaken: u kan uilen genoeg ontdekken in Disneyfilms, daarom even (alleen) de allerleukste op een rijtje.



collage by me

- The Fox and the Hound: Big Mama / Frank & Frey: Mama Uil

The sweetest of them all, and my favorite. Especially the song "Best of Friends" (but the Dutch version of course) is beautiful and brings tears to my eyes every time I hear it. By the way, I must agree with you guys, the movie is so sad, but só good.
// De liefste van allemaal en een echt favorietje. Vooral het liedje "Als je een vriendje hebt" brengt altijd de tranen in mijn ogen. Ik ga trouwens wel akkoord met jullie, vind het ook een hele zielige film. Maar zó mooi!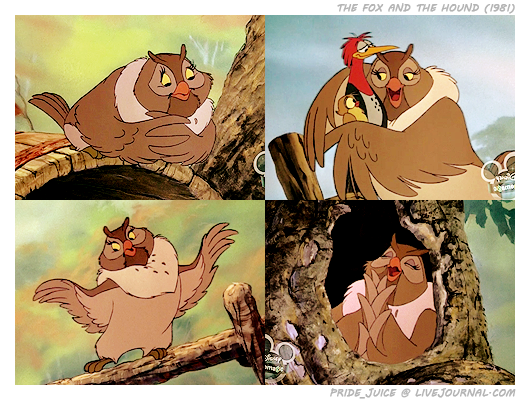 - The Sword in the Stone: Archimedes / Merlijn de Tovenaar: Archimedes

I think he's the funniest of all owl Disney characters. Just look at him. His voice is even better in Dutch, but I couldn't find a video unfortunately.
// Veruit de grappigste van de hoop, Archimedes! Geniaal!





- Bambi: Friend Owl / Bambi: Uil

I love the part in the movie where the owl starts whining about falling in love and fysical attraction and all.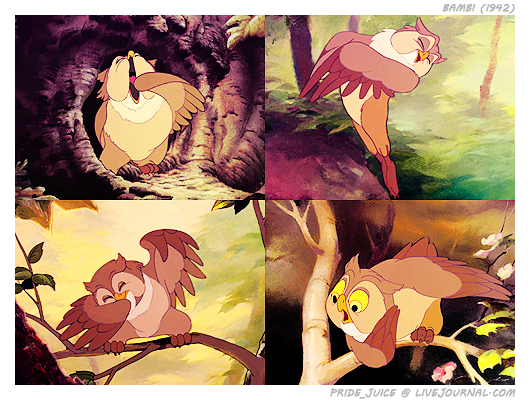 - Sleeping Beauty: The Owl / Doornroosje: Uil

The Owl who dresses up like the Prince to cheer up Sleeping Beauty. Just too cute!
// De grote uilige vriend van jong en oud die zich verkleedt als Prins om Doornoosje op te beuren.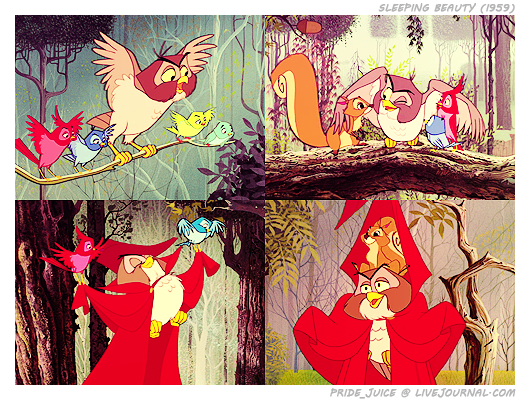 - Winnie the Pooh: Owl / Winnie de Poeh: Uil




- Snow White / Sneeuwwitje

All sorts of owl shaped furniture and decorations.
// Uilenversieringen door het hele huis.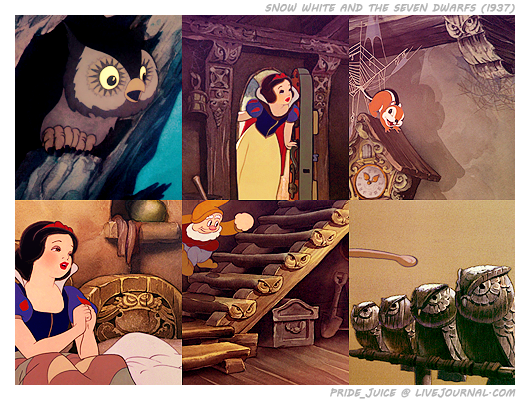 collages by Daniele

I even stumbled upon a little quiz you can take to find out which Disney owl YOU are! Isn't that amazing? Click heeeere. (I was - of course - Big Mama)
// Er bestaat zelfs een quiz om te achterhalen welke Disney uil je bent! Geweldig toch! Klikkerdeklik hierrrr. (Ik was - uiteraard - Mama Uil)